The 500th Anniversary of the Reformation
Sunday, October 29, 2017
Worship at 10:30
followed by pot-luck luncheon
​

---
Background on Martin Luther and the Reformation

Part 1: The World at the Time of Luther's Birth 10/1/17
The world was emerging from the dark ages. People were becoming explorers, inventors, teachers, and statesmen.

Johannes Gutenberg invented the printing press - allowing for rapid and wide-spread sharing of ideas. Luther would make good use of the printing press to pass on his writings, including the catechisms and his German translation of the New Testament. Peter Henlein invented pocket watch. The watch was about 4 inches in diameter and was possible after Henlein invented the coiled spring. Looking east, the Chinese invented the toothbrush. People were glad to have a shine to their teeth in addition to getting rid of the particles between their teeth. Around 1489, Johann Widmann began to use the "plus" and "minus" symbols in mathematics.

There were also political changes during these times. Ferdinand of Aragon married Isabella of Castile in 1479. This resulted in the unification of Spain and set the stage for sending Columbus on his voyage to the New World. China was preparing to rebuild it's great wall in 1488, after the original wall was destroyed in 1449 by the Mongols. The first wall was probably made of mounds of dirt; the new wall would be faced with brick and support a 12 foot wide road at the top.

The Age of Enlightenment was led by Leonardo da Vinci. He was an artist, inventor, painter, engineer, and scientist, among his many interests. There was also Michelangelo who painted the ceiling of the Sistine Chapel from 1508 to 1512, reflecting God's creation of the world. At this time, the belief that the earth was the center of the solar system was widely accepted, especially by the Roman Catholic church. However, Nicholas Copernicus published a book shortly before his death in 1543 proposing the theory that the earth revolved around the sun. in order to protect the life of Copernicus, his friend wrote in the book that is was a hypothesis as opposed to a new theory.

The age of exploration covers voyages to the New World as well as routes around Africa to India. There were the voyages of Dias in 1488, Columbus in 1492, Cabot in 1497, and DaGama in 1498. Explorers continued to branch out to new territories.

Part 2: Luther - The Early Years 10/8/17
Luther was born and baptized on November 10, 1483, the eldest child of Hans and Margarethe Luder, an upwardly mobile family involved in copper mining. As the eldest child, Martin was sent to school - with the hope that he would become a lawyer and thus be able to help the family business.

This plan was waylaid when Luther was caught in a thunderstorm and promised to become a monk if he was spared. Thus he left the University and entered the Augustinian monastery in 1505. After struggling for 3 years with his feelings of guilt, his superior sent him to study theology at the new University of Wittenburg, where he became Dr. Luther, pastor and professor of Bible studies, a position he held until his death in 1546.

As Luther preached, taught, and continued his study of Scripture, the burningquestion remained. How could a Christian sinner live with a righteous God? "God's demands for righteous living were so overpowering that all Luther could see was his unworthiness. Could God have chosen a sinner like him? Hardly."1 For all the recognition bestowed by others, Luther could only see his own faults. Then came the insight: The righteousness of God was not just a quality that God possessed and used to judge people; the righteousness of God was a gift God freely gave to sinners. Luther put it this way as he would begin his lectures on Romans: "In the presence of God it is not by doing just works that one becomes just, but, having been made just, one does just deeds." This fundamental change in Luther's understanding of the righteousness of God was like a pinch of yeast that gradually worked it way into his thoughts, his being, and his entire life. It was the good news – the Gospel – that he had been longing to hear. It would influence the way he understood the practices of the church, the
interpretation of Scripture, and the way we live.

Sources:
Martin Luther: A Life, James A Nestingen, Augsburg Fortress, 2003, chapters 1-2
Luther the Reformer, James M. Kittelson, Augsburg Publishing House, 1986, chapters 1-4

Part 3: Luther's Insights 10/22/17
On All Hallow's Eve, October 31, 1517, Luther posted on the door of the Castle Church in Wittenberg a set of propositions to debate the practice of granting indulgences. Although Luther wrote these 95 Theses in Latin for a learned audience of clergy and professors, they were quickly translated into German. The printers with their new technology of the printing press spread Luther's 95 Theses, and within 2
weeks copies were showing up in the Netherlands, France, and even Italy and Spain.

The preaching, selling, and buying of indulgences were a central part of religious practice in Luther's time. Although Baptism washed away the penalties for original sin, people still had to "do what was in them" to wipe away sins committed after Baptism. Through confession, a person learned what was needed to atone for their sins - going on a pilgrimage, saying Ave Marias, making a financial gift to the church, or such. An indulgence could also be used to satisfy the penalties of sin. To be "indulged" a sin before death was to have its penalties pardoned by the church and therefore released from paying for it in purgatory. Death brought a person to purgatory - where the stain of sins that remained needed to be purged from them before they could enter heaven. A plenary (full) indulgence, if acquired on their behalf by someone whose heart was properly inclined, wiped away all their sins committed since Baptism - a sure ticket to get out of purgatory and into heaven.

Luther was concerned about the sale of indulgences. The church was in the midst of a campaign to raise money for the building of St. Peter's basilica in Rome - and selling indulgences was proving to be a great money maker. John Tetzel, a Dominican friar, led the effort in Germany by selling special plenary indulgences. He would preach "Do you not hear the voices of your dead relatives and others, crying
out to you and saying, 'Pity us, pity us, for we are in dire punishment and torment from which you can redeem us for a pittance'?"...Will you not then for a quarter of a florin receive these letters of indulgence through which you are able to lead a divine and immortal soul safely and securely into the homeland of paradise?" The final push was: "Once the coin into the coffer clings, a soul from purgatory heavenward springs."3

Although initially reacting to the abuse of indulgences, Luther would gradually become convinced that Christ and Christ alone was the sole source of salvation. Good work, pilgrimages, prayers, and numerous indulgences will not make a person worthy of heaven - only God's gift of faith will grant righteousness to the sinner.

3 Walther Kohler, ed, Doumente zum Ablassenstreit von 1517, 2nd rev. ed. , Tubingen, 1934, pp.
125, 127
Sources:
Martin Luther: A Life, James A Nestingen, Augsburg Fortress, 2003, chapter 3
Luther the Reformer, James M. Kittelson, Augsburg Publishing House, 1986, chapter 5


Part 4: Luther's Family Life 10/29/17
Luther's passion for education, particularly Christian education, teaching the Psalms, and educating the youth how to read and write would continue his entire life. He even believed in the importance of educating women which was extremely radical at the time.

---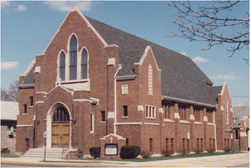 Come worship with us!


You're not too bad to come in -
You're not too good to stay out!
​
---
---
In preparation for the 500th anniversary of the posting of Luther's 95 Theses, we will be reading one of the Theses each week through Reformation Day, 2017.